a
Model

RU

Roller Gear Index Unit
b
Size

80D

80D 80mm
Center distance
c
Type

F

Type

S

Shaft Type


F

Flange Type


T

Table Type


A

Ultrathin Table Type


H

Oscillating Handler Type are available
d1
Number of Stops
(S)

08

8 stop
Number of stops of the Indexing Drive
d2
Index Period
(θ λ)

120

120°
Cam rotation period (during which the output moves.)
e
Motion Curve

2

MS Curve

1

2

3

4

are
available

1

MT(Modified Trapezoid)


2

MS(Modified Sine)


3

MCV 50(Modified Constant Velocity 50)


4

RBS(Rational B-Splines)

f
Hand of Cam

R

1Dwell Right Hand Cam
Either a right hand cam or a left hand cam can be ordered as standard. Multi index (more than one index per cycle)are also available as standard.
Input Output

R1

R2

R3

R4

Right Hand Cam

L1

L2

L3

L4

Left Hand Cam

| | Right Hand cam | Left Hand cam |
| --- | --- | --- |
| 1Dwell | R | L |
| 2Dwell | R2 | L2 |
| 3Dwell | R3 | L3 |
| 4Dwell | R4 | L4 |

g
Input Shaft Projection

S3

Both T and U surface

S1

S2

S3

S1

Only T surface side


S2

Only U surface side


S3

Both T and U surface sides are available
h
Mounting Holes

VW

Mounting holes on surfaces V and W come automatically. In addition, mounting holes on the other surfaces are availables as standard. 
(Code A for all surfaces.)
i
Mounting Position

1

Mounting position as shown below.
j
Special instructions

X

Include the symbol "X' in case of special instructions.
☐ Standard(No Symbols)
☒ Special Instructions
Optional Order
A.Hollow Output (which is available on sizes 45D through 250D)
Hollow output is used to connect the electrical cables are pneumatic tubing.
Advise required hole diameter.
If none is specified, solid output will be supplied.
How to Order
Mounting holes supplied on surfaces V and W come automatically. Upon request, the mounting holes can be placed on the surfaces R,S,T and U.
Model code shows the assembly of cam and turret, together with output, input, tapped hole surface and mounting position.
Completion of the moedl code is necessary when placing an order. Either right hand cam or left hand cam can be ordered as standard. Also, four(4) types of motion curves (MT, MS, MCV50, RBS) can be orderd as standard.
DS
Shaft Model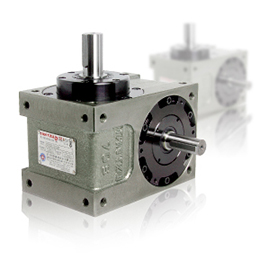 DF
Flange Model